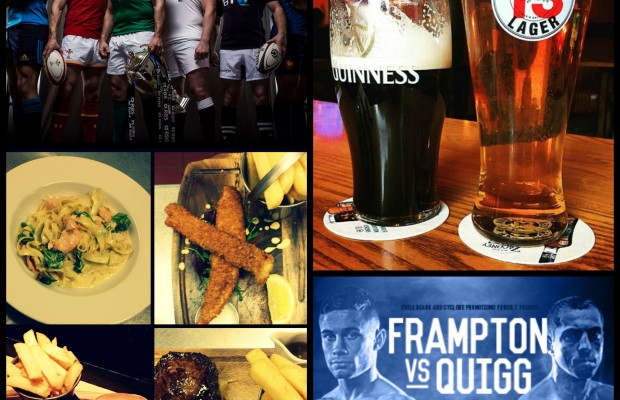 The weekend of the 26th to the 28th of February is looking like a great weekend of sport! To start the weekend we've got the Wales v France in the 6 Nations at 8.05pm on Friday the 26th of February. On Saturday the 27th of February there is more 6 Nations action with Italy v Scotland at 2.25pm followed by England v Ireland at 4.50pm. Later on that evening we will also be showing the Frampton vs Quigg fight. And if that wasn't enough you've also got the Capital One Cup final between Liverpool and Manchester City at 4.30pm on Sunday the 28th of February. So don't make any plans for that weekend as these fine sporting events will take up a lot of your weekend!
On both Friday and Saturday our amazing €12 meal deal will be on. For €12 you get any main course on our menu (the menu changes weekly) as well as a pint or bottle of beer, glass of wine or soft drink. On top of that we have our €4.50 beer & cider specials on which includes pints of Paulaner, Becks & Tiger as well as bottles of Kopparberg, Pilsner Urquell, Erdinger, Spitfire & Budvar.
On Sunday for the Capital One Cup final our award winning carvery (did you know that we won Best Pub Carvery in Leinster in 2015??) will be on. If that wasn't enough, we've also got €4 pints & bottles of beer (yes that is all pints & bottles of beer).
And with 9 TV screens spread out around the pub, you will be able to see the match/fight that you want from pretty much everywhere in the pub. If there is a big group of you planning to come down that weekend email us and we could reserve an area for you.