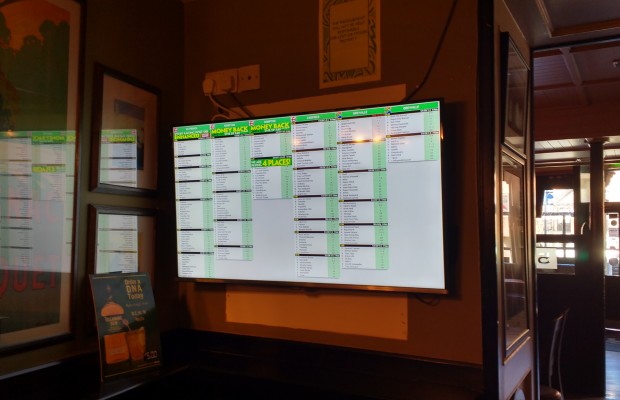 Next week's highlights include both the Cheltenham Festival and St Patrick's Day. We hope you are looking forward to both events and the fact that it is a four day working week. Happy Days.
The Cheltenham Festival starts on Tuesday the 15th of March and ends on Friday the 18th of March with the likes of the Cheltenham Gold Cup. We have just recently had a Paddy Power screen installed in the pub just in time for Cheltenham. We will of course be showing all the races from Tuesday to Friday, so come in on your lunch break and enjoy our award winning carvery while watching the races. Our lunch time carvery changes on a daily basis and you can check out what is on the menu here.
In the middle of Cheltenham is our national holiday, St Patrick's Day. If you are one of the unlucky ones that has to work on Paddy's Day and you happen to work around Baggot Street/Haddington Road, pop in on your lunch for a well deserved break. Our €12 meal deal will be served all day up until 9pm. As you may or may not know, our meal deal includes any main course with a pint or bottle of beer, a glass of wine or a soft drink for only €12. Now that is a great deal if I may say so myself. So if you are heading home after the St Patrick's Day parade, pop in and treat yourself to our amazing meal deal and enjoy a couple of relaxed pints.
Another highlight on St Patrick's Day is the second leg of the last 16 in the Europa league, with Manchester United taking on Liverpool at 8.05pm. Come in for a bite to eat before the match and have a few pints afterwards. We have a couple of beer specials on which includes pints of Paulaner & Tiger and bottles of Erdinger & Budvar for €4.50
We hope to see you in with us next week for Cheltenham, Paddy's Day and Manchester United v Liverpool