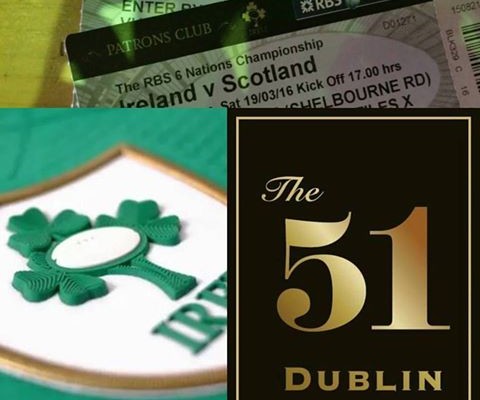 The 2016 RBS 6 Nations tournament is coming to an end… The last 3 matches in the last round of the tournament are on this Saturday the 19th of March. The afternoon of rugby kicks off with Wales v France at 2.30pm, followed by Ireland v Scotland (in the nearby Aviva Stadium) at 5pm and then France v England at 8pm.
Even though this year's 6 Nations tournament has been a bit of a dissapointment for Ireland, we have still enjoyed the great atmosphere that comes with this tournament. There has been a great turnout for all the matches and the support can clearly be seen even though the results haven't been going out way.
If you want to go to the Aviva Stadium on Saturday for the Ireland v Scotland match but you don't have a ticket, don't worry. We have got 2 premium tickets to the 6 Nation match, courtesy of the charity Alone. The tickets will be raffled out to one lucky winner, so be sure to pop in to us during the week (maybe for Cheltenham or on St. Patrick's Day) and enter the raffle to be in with a chance to win the 2 tickets.
If you are going to the match on Saturday, The 51 is on route to the stadium, so call in before the match to catch the action of the first match, Wales v France and get a few pre-match pints in to you. We will also be serving a smaller bar food menu to fill yor stomachs before the match. Join us again after the Ireland v Scotland match for the last match of the tournament, France v England. There is always a great atmosphere in the Dublin 4 area on match days in the Aviva and it's great to be bang in the middle of that!
We were voted best sports pub in the National Hospitality Awards in 2014, so what better spot to come watch the 6 Nations rugby this weekend! We hope to see you in with us!