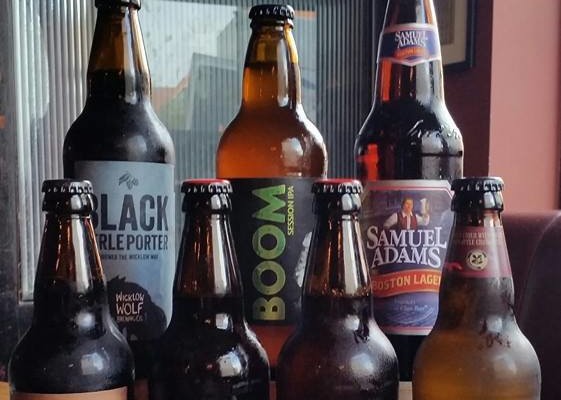 The craft beer rage is going nowhere… It's definitely here to stay! We have a small selection of craft beers here at The 51 on Haddington Road which we are hopefully going to expand in 2016. Now let me tell you a little bit about the craft beers that we do have in stock at the moment.
Wicklow Wolf: a brewery based in Bray, co Wicklow. We stock 2 of their beers, the Black Perle Porter (a classic English porter with a twist. A beer that will satisfy any drak beer drinker with characters of dark caramel, chocolate, coffee & toasted malt) & the Kentucky Common (a true American original beer style. A malty dark cream ale with a crisp finish with flavours of caramel & chocolate malts).
Stone Barrel Brewing: The founders & brewers of this brewery are a few of our locals and we love supporting our locals. The fact that they make wicked beers also helps 🙂 We stock there session IPA BOOM which is a light, tasty and easy-drinking IPA with tropical fruit aromas & flavours!
Brewdog: They don't really need much of an introduction, most people in Dublin know about Brewdog and that they produce amazing beers! Punk IPA is probably their most popular craft beer and you just need to taste it to see why. Spiky! Tropical! Hoppy! Tropical fruit flavours like grapefruit, pineapple & lychee before a spiky bitter finish!
Galway Bay Brewery: another Irish craft brewery with really great beers. We stock both the Full Sail (a dry hopped IPA) and the Bay Ale (a thirst quenching & savoring Irish red ale).
Samuel Adams: The Boston Lager is a real craft beer classic. It's a full-bodied beer full of flavours with hops and malts, yet balanced and complex.
Last but not least we also have an Irish craft cider: MacIvors Medium Cider, a real fresh & fruity cider using a blend of apple varities.
No if you are new to craft beers or just a little low on cash for the month, be sure to call in to us Sunday – Wednesday as all our pints & bottles of beers are only €4! Now that's a deal right there! So call in after work for a few beers and maybe catch some sports, we're based on Haddington Road!